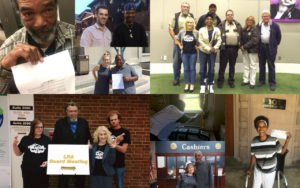 Thursday, December 31, 2015
2015 has been a busy and wonderful year for Project Raise The Roof…
We prevented 7 families' homes from becoming LRA property.

We turned 4 families into homeowners.

We assisted 5 buyers in using tax auction laws [originally intended to be stacked against them]

in their favor

.

We educated over 2 dozen homeowners on paying their property taxes, helped them with documentation, transportation, and navigating municipal processes, and kept their homes off the auction block.

We gave a property to a

local charity

which focuses on empowering economically/educationally disadvantaged families.

We are still working to retain homes for 2 clients…and the effort resumes the moment City Hall opens on Monday, 01/04/16.

And all of the above was accomplished with an all-volunteer crew and less than $5,000 in donations!
All thanks to your involvement and generosity!  Project Raise The Roof is awed by our outstanding volunteers, supporters, and donors.  Although we weren't able to help every single family who needed us, we look forward to doing even more community outreach in 2016!  Thank you to everyone—in the City, the County, and across the country—who has supported our mission in any way.  After all, it takes a village to rebuild a city.  Much love to STL, and Happy New Year from PRTR!