Well… Thanks to all of you wonderful people, PRTR's First Annual Valentine's Day Prom was an absolute smash hit!  We could say so much more, but a picture is worth a thousand words, so we'll let the photos speak for themselves.  Check out a few of the highlights on our Instagram page.
All said and done, we raised enough funds to save at least 3 more homes from the auction block once the Sheriff's tax sales begin again in May…and more donations keep coming in.  BIG thanks to our longtime supporters and our new donors who learned about our mission last night.  Shout-out to our local businesses: Flowers for the People, who provided floral arrangements for the awards ceremony, 2720 for graciously donating the space for the event, and Or Cards for providing super-special on-the-spot typewriter poems for our guests.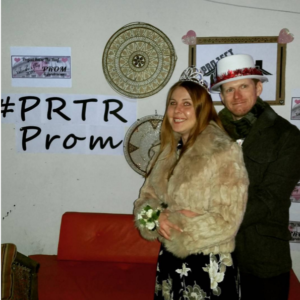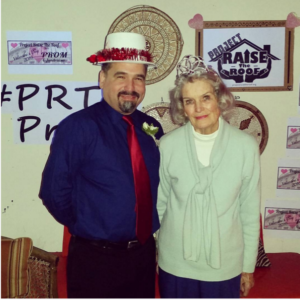 Congratulations to Prom Queen & King Couple, Courtney & Erik (left,) and to Prom King & Queen Individuals, Manny & Moir (right)!  Attendees earned votes by raising the most money ($1 – 1 vote) to win their titles.
We'll let the rest of the photos speak for themselves…  Thanks again, St. Louis!  We can still feel the love tonight…and for many nights to come.  Looking forward to seeing you at PRTR Prom 2017!